Bedtime Blessings: Jesus Loves You "SNOW" Much!
6:00 PM - 7:00 PM
Crown of Life Christian Academy
FREE!
Public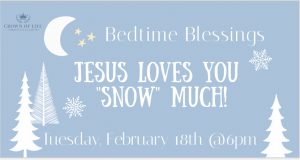 Join us for Bedtime Blessings: Jesus Loves You "Snow" Much on Tuesday, February 18th at 6:00 pm. This is a gathering of family fellowship for preschool, kindergarten, and 1st grade families. All siblings are welcome to come. We have a fun night planned with bedtime stories, music, crafts, games and devotion with a special winter snack. Parents will have a chance to network with other parents and learn about upcoming early childhood focused workshops. Children can come dressed for bedtime. View the event and RSVP by February 4th!